Self-paced course
Anywhere Club
Career Bootcamp
Global

Online

15+ hours

Basic

English

Free
Kick-start your career with our experts:
perfect your CV and interview skills to land your dream job
Our program is designed to help IT specialists stand out in today's competitive job market and get the job they've always wanted.
What to expect from the program?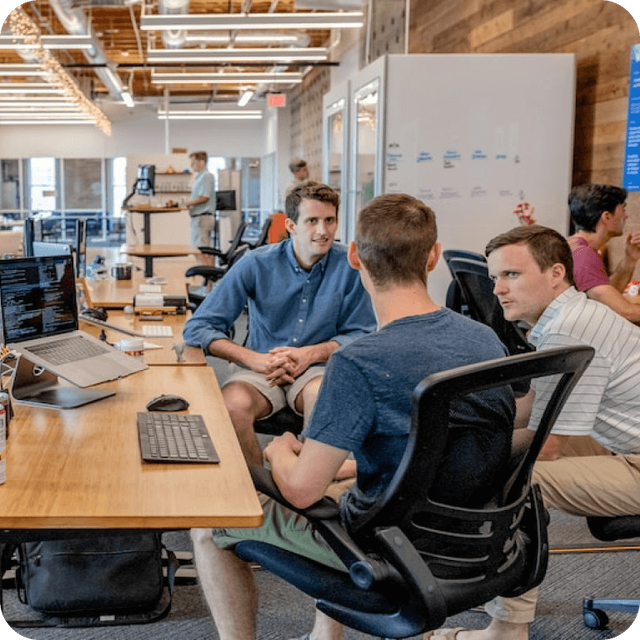 01
Meetings with experts and personalized feedback
Paid plan
02
Strategies to perform well in technical interviews
03
Guidance on using ChatGPT to create an effective CV and prepare for interviews
Paid plan
04
Best practices for successful general interviews
05
Expert advice on maximizing the effectiveness of your CV
06
Certificate of completion
Paid plan
07
Unlimited access to program materials
08
Tips and guides for employment preparation
Who can benefit from the program? 
Testers

QA/QС, software testing, and test automation engineers

Developers 

Front-end and back-end engineers

Business analysts

Just business analysts — there is nothing to add

Designers

UX/UI, graphic, and web designers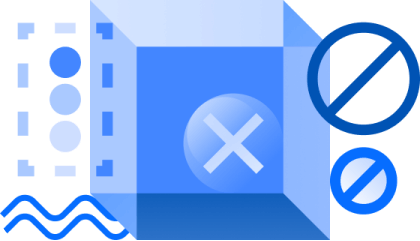 Can't find your profession? Complete the form to let us know that you'd like to participate in Career Bootcamp. 
How is the learning path structured?
Our self-paced format gives you the flexibility to learn at your own pace. All subscription plans provide access to engaging lectures and comprehensive self-study materials. Additionally, you can customize your learning experience by unlocking the features that are available only in our paid plans. 
01
CV creation 
5 hours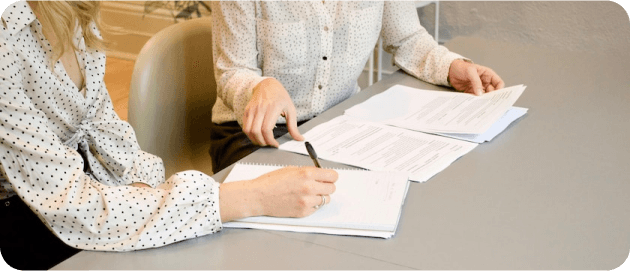 Learning objectives
Part 1 offers valuable insights on creating a compelling CV and LinkedIn profile.
In this part, you will:
Learn how to compose a CV and create a LinkedIn profile that attracts recruiters. If you're a designer, you'll also get valuable tips on building a strong portfolio. 
Discover best practices for resume building and job searching in our pre-recorded lecture with a recruiter.
Compose your CV following the techniques outlined in our study materials. 
Receive professional feedback on your CV and discuss ways to make it better with our expert.
02
Interview preparation
10 hours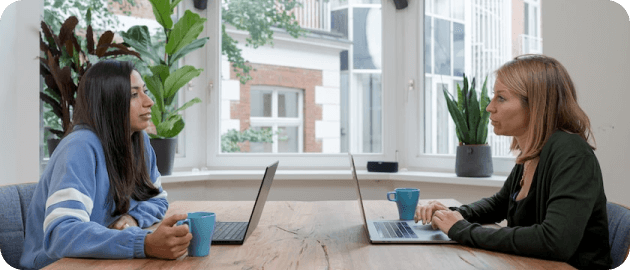 Learning objectives
Part 2 of the program is dedicated to developing your interview skills.
In this part, you will:
Learn communication strategies for dealing with interviewers. 
Get tips from a talent acquisition expert on how to complete general, technical, and customer interviews successfully. 
Learn how ChatGPT can help you create a compelling CV and prepare for interviews.
Challenge yourself in a general mock interview with a professional interviewer who will provide real feedback. 
03
Typical workday and interview practice
3.5 hours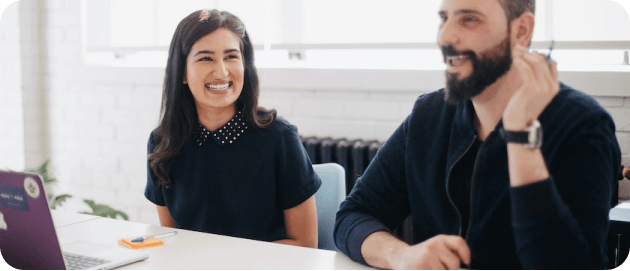 Learning objectives
Part 3 is dedicated to technical interview practice. You will also learn about a day in the life of an IT specialist.
In this part, you will:
Deepen your understanding of the principles, techniques, and best practices for successful negotiations.
Learn about the typical day of an IT expert in your chosen profession.
Participate in a technical interview conducted by our expert.
Receive a certificate of completion.
Preview the video lectures featured in the program 
Get a taste of what Career Bootcamp has to offer.
Bootcamp experts 
The expert team of Career Bootcamp consists of enthusiastic and dedicated professionals who are eager to share their knowledge.
A passionate functional tester who has worked in various domains for over 5 years — medical services, e-commerce, banking, and science.

Irina Goltseva

Senior Software Testing Engineer 

A proficient front-end developer and part of the FrontSpot community team who actively participates in level assessments and technical interviews. 

Pavel Chychyn

Lead Software Engineer

An experienced business analyst, certified technical interviewer, and level assessment expert who has made the move from a junior specialist to a team leader in 4 years.

Tatiana Petrovskaia

Senior Business Analyst

A self-developed designer, community expert, and team leader who plays a significant role in talent acquisition, technical interviews, and level assessments.

Andrei Martinovich

Principal Experience Designer

A self-developed designer, community expert, and team leader who plays a significant role in talent acquisition, technical interviews, and level assessments.

Aliaksandr Yazepchyk

Senior Recruiter
Article from the Career Bootcamp creator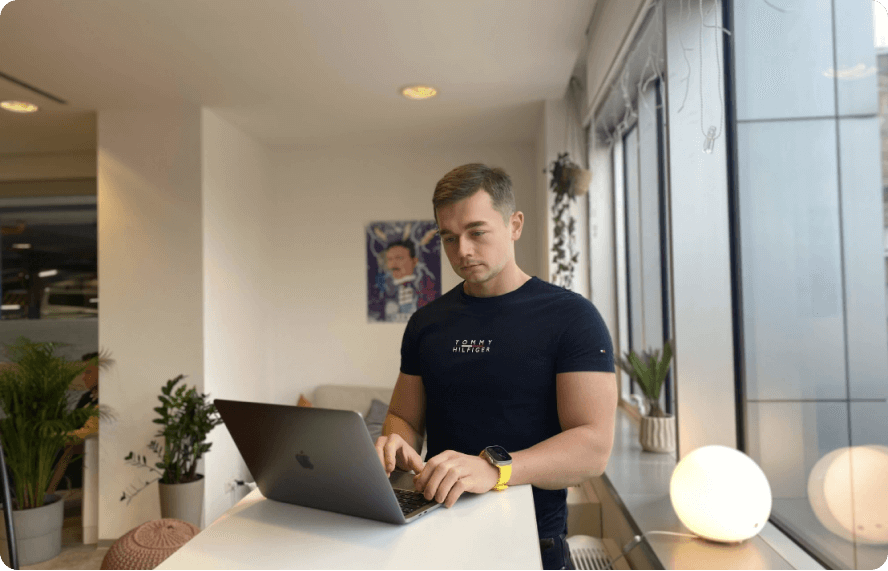 What Is Bootcamp: How Does This Training Work and for Whom Is It Suitable?
On the eve of the launch of our Career Bootcamp, we offer insights into the effectiveness of this popular educational format.
Read the article
Let me thank each and every one who organized this wonderful course! You are awesome, guys! You did it perfectly! I enjoyed every moment of this training. It helped me to feel more comfortable and relaxed. I am not afraid of interviews anymore. All materials and tips that you gave us were useful and priceless. Keep going and help people find their ways in their career paths. I wish you all the best of the best!

Yulia Skopintseva

QA Engineer

Once again, thank you all for this wonderful experience! I see how much time is spent, how carefully everything is performed, this must cost a lot. Especially I was happy to get feedback. Thank you for your effort! This was amazing!

Yulia Reshetniak

Designer

The completed course is incredibly effective! The information provided in the course is of very high quality and well organized. Video materials are easily perceived, and many practical tasks reinforce the information just received. The meetings went great. Two home tasks are insanely useful!

Snezhana Lukina

QA Engineer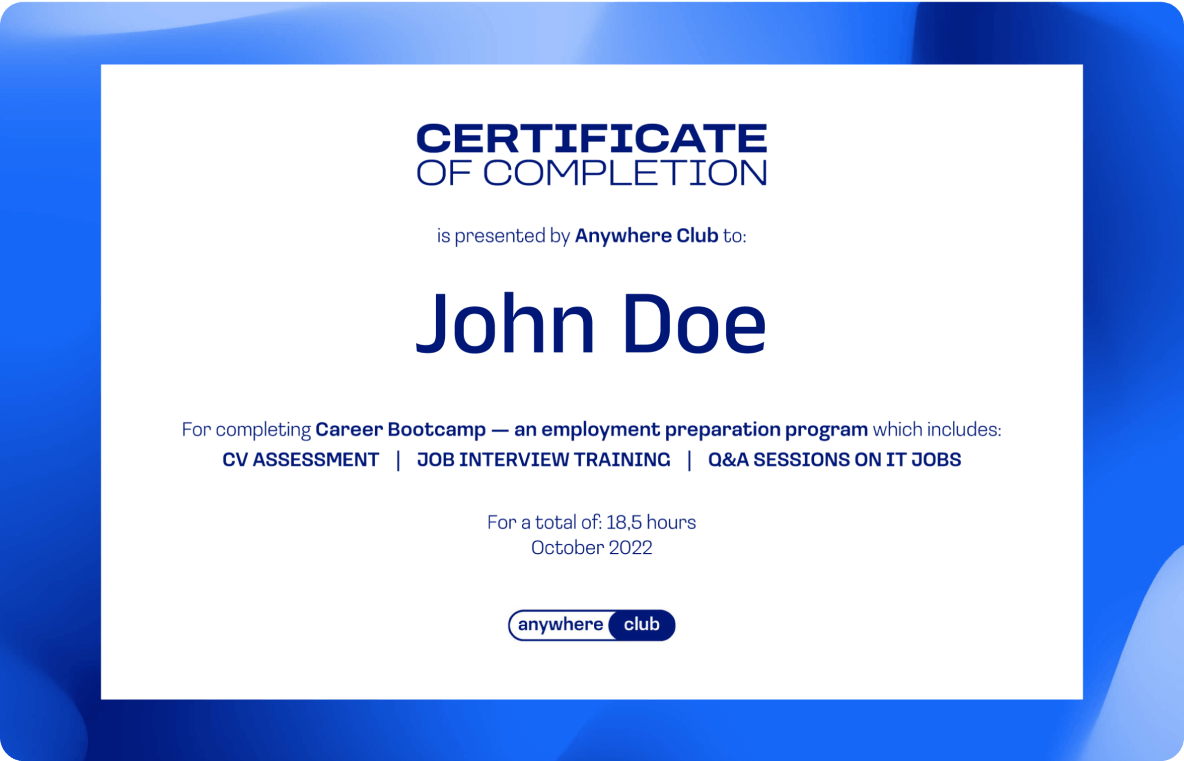 Get a certificate of completion
Choose your plan
We offer three subscription plans to accommodate your learning needs and budget.

members
Rookie 
Free
Try Career Bootcamp for free to see if you'd like to unlock more features. To join Career Bootcamp for free, please create an Anywhere Club account. 
Comprehensive self-study materials
Tasks with self-review
Access to pre-recorded lectures from our experts
Expert tips for employment preparation 

Money-back guarantee
Enthusiast
$10
Prepare for interviews with our simulator and receive personalized feedback on your CV.
Everything in Rookie
Practice with our online interview simulator
Access to professional CV and portfolio examples
CV verification and detailed feedback from our experts

Money-back guarantee
Interview Guru
$45
Invest in your future and get full access to all the resources available in Career Bootcamp.
Everything in Enthusiast
Personalized mock interviews for general and technical interview scenarios
Detailed feedback on your performance
Q&A chat with our experts
Access to our alumni group
Frequently asked questions
Explore the list of questions about the program gathered from applicants.
Will Career Bootcamp help me improve my tech skills? 
What are the requirements for joining Career Bootcamp?
Will Career Bootcamp assist me with my job search?
Is it possible to get a refund if the Career Bootcamp program doesn't work for me?
How long will I have access to course materials?
How do I enroll in a paid plan for Career Bootcamp?
Want to inspire others?
Spread the word and share this page with anyone you know who'd find it interesting.